June 22nd, 2023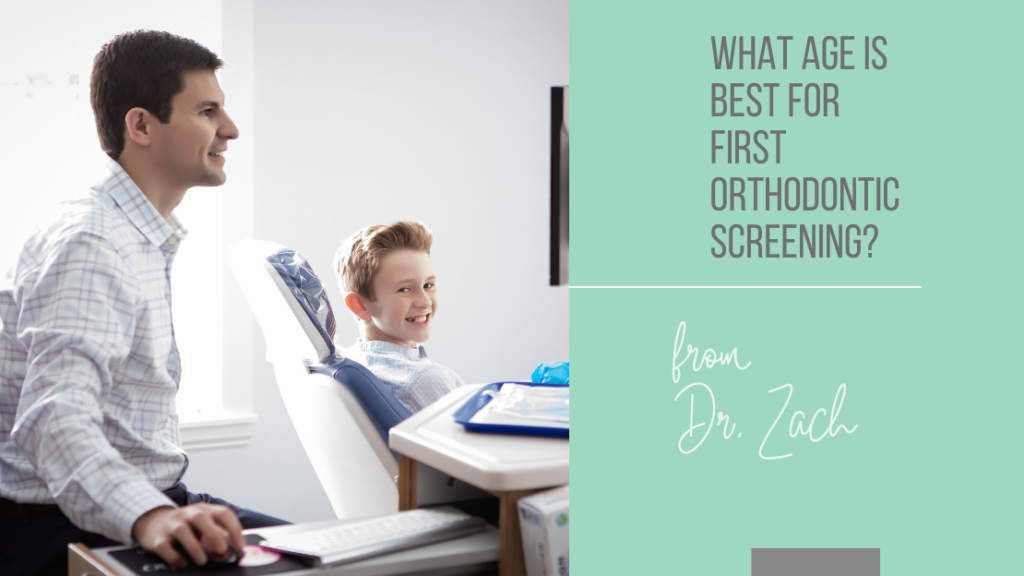 If you have school age children, determining the age of the first orthodontic visit may be confusing. You may see some first graders in braces and you may be wondering: "Why in the world are they wearing braces already? As a parent, am I missing something?"
It is very common for parents to ask me:
What is the best age to bring my child for their first orthodontic screening?
In my opinion, I believe the best time for a first visit is around their 8th birthday. At this age, children have a mix of both adult and baby teeth, and we can start to foresee how their teeth and jaws will line up in the future. Specifically, I am looking for:
- Cross bites (top jaw is too small)
- Excessive crowding or spacing of the teeth
- Overbites and underbites (mismatch of upper and lower jaw size)
- Missing teeth, late erupting teeth, extra teeth, abnormally shaped teeth
- Environmental factors (thumb sucking habits, mouth breathing, etc.)
While there are many things I am looking for at this age, it does not necessarily mean that I will treat them at this age. In fact, for most kids under the age of 11, I recommend waiting.  While every orthodontist is different, I prefer a conservative approach and I firmly believe "less is more" when it comes to orthodontic treatment.
Why do I take this approach? For many bites, we have studies that show we can get the same result if we treat in one stage instead of two. This not only saves time and money in orthodontic treatment, but it gives your kid the chance to be a kid without having braces from age 8 until 13. Additionally, we have to consider these are their adult teeth - they need to have them forever! Hygiene is very important, and I want to give every kid the chance to keep their teeth clean and cavity-free if possible.
Does this mean I wait in all cases? Not at all! It is true - some cases I do recommend a 2 step approach with early orthodontic intervention at age 8-10 years old. Often times, this is for bone growth issues that are best addressed at that age, or for teeth alignment issues that if left untreated will make for a more difficult treatment in the future. If this is the case, I try to do an early treatment for as little time as possible to help correct the problem. Then we can wait and approach the rest as a pre-teen or teenager. I sincerely look at every child as if they were my own, and if there is a situation that I would treat my son or daughter, then I let you know.
I take pride in our conservative approach to early treatment. Best of all, we do not charge anything for an initial screening - our first appointment is entirely free, and you do not need a referral from your dentist to check us out. Feel free to reach out anytime with questions - I am here to help : )