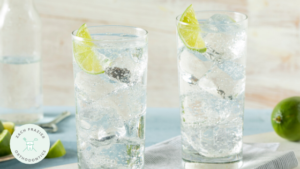 Ah, sparkling water - so refreshing with its effervescence! With the popularity of sparkling drinks, I often get the question:
Will sparkling water harm my teeth?
The truth is, any drink with carbonation is going to have a higher acid level. Higher acid levels are not good for your teeth as they can wear away the enamel over time. Acid causes tooth erosion and decay. However, researchers have been looking into this to see if the acid content is enough to weaken your teeth.
The short answer is - no, drinking sparkling water will not harm your teeth.
According to the latest studies, they find that in general, drinking plain, sparkling water will not have a significant effect on the enamel of your teeth. Compared to regular tap water, it essentially has the same long term effect.
Here's the catch and what you need to know for your teeth and orthodontic treatment...
Everything should be enjoyed in moderation. While sparkling water is fine, regular water is still your best bet as it is great for your overall health and contains fluoride which will help fight against tooth decay.
Sparkling water is not all the same - some companies add sugar and citrus flavors. The sugars and citrus flavors do make the drink more acidic, and therefore may put the teeth more at risk if they are sipped throughout the day. The more exposure your teeth have to acidic, sugary, carbonated drinks, the greater the risk for enamel wear.
With the growing popularity of Invisalign treatment, many adults want to know if they have to remove their clear aligners to have a sparkling water drink. Basically, if the sparkling water is plain, it should have a significant effect on the teeth (once again, practice moderation). However, be aware that citrus-flavored or added sugar can sit under the Invisalign aligner which can lead to issues with the enamel.
Questions or interested to learn more about diet recommendations with orthodontic treatment? Let us know - we are here to help : )