We were honored to recently be featured in DMG DENTALPROFILES! You can view it here (page 59) or read below!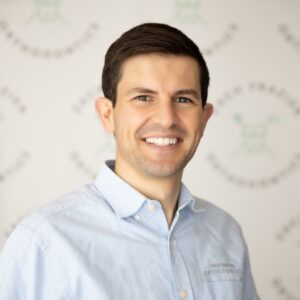 Can you share your journey to becoming an orthodontist? 
I started my education here in Downers Grove at Highland Elementary School, Herrick Middle School, and Downers Grove North. Growing up, I never had my thoughts set on being an orthodontist; instead, I thought about doing something that involved healthcare. My parents are both in healthcare, and I had many extended family members involved in that field as well. After high school, I studied molecular biology and Spanish at The University of Illinois, and after graduation, I began working for an oral surgeon. After this experience, I decided to apply to dental school at the University of Illinois at Chicago (UIC), followed by my orthodontic specialty degree from Washington Hospital Center in Washington, D.C. I was drawn to orthodontics in dental school as I felt like it was the "fun" part of dentistry - no numbing, no needles, etc. I enjoyed the cosmetic and artistry part of orthodontics.
What makes Zach Frazier Orthodontics unique?
A few things make us unique. First, our mission is to serve and improve the community, which is why we are so heavily involved in supporting many schools and organizations locally. Internally, we are seriously dedicated to customer service and communication. We believe there is nothing more important to us than making our patients and their families happy, and we are willing to go above and beyond to prove this. Service, communication, and transparency are sometimes overlooked in the medical field, but those are our key priorities. Straight teeth and a healthy bite are the expectation with any orthodontic office, but we strive to make the experience better than anyone else.
As heavily involved in the community as you are, what are some of the organizations you support and why? 
In the six years that we have been in business, we have made over $40,000 in contributions to 36 community groups/schools/organizations. There are so many to name! We have made many contributions to District 58 & District 99 schools and the private schools in Downers Grove. I attended District 58 & 99 schools growing up, and I love giving back to the schools that helped shape my future. We also have provided support for some schools in the towns surrounding Downers Grove. We are a huge sponsor for many Downers Grove area sports clubs, including Roadrunners soccer, Rebels softball, Hitmen baseball, Fury baseball, Longshots baseball, Panthers football, Downers Grove Youth Baseball, and many more. It is an incredible opportunity to support so many kiddos who come into our office and sponsor their teams. Within Downers Grove, we also support many community groups, such as Downers Grove Junior Woman's Club, Navigate Adolescence, and The Grove Foundation.
Besides bringing beautiful smiles to your patients, what is the most rewarding part about being an orthodontist? 
One of the most rewarding parts is meeting so many great people. Our dental specialty is very social, and seeing families come in over many years is fun. I love seeing old classmates in the office with their kids.
As a native of Downers Grove, what was your experience growing up here? 
I loved growing up in Downers Grove. I grew up watching movies at the Tivoli with my family, getting ice cream at Every Day's a Sundae, and heading to McCollum for soccer games. There are so many great memories of playing for Downers Grove North soccer at Carsten's Field. One thing that is awesome about Downers Grove is that many of my friends who share those memories still live here, too, and we are now reliving those memories with our kids. That's one of the unique things about Downers Grove – people come back here to settle down and raise their kids, and I think that says a lot about the vibe of this town.
CLICK BELOW OR CALL US FOR A COMPLIMENTARY CONSULTATION