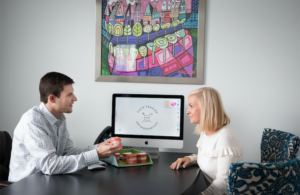 We receive lots of questions every week from people interesting straightening their teeth to improve their smile and to create a healthy bite. Here are a few of our most popular questions and answers : )
What is an orthodontist, and how is he/she different than my regular dentist?


An orthodontist is a dental specialist who focuses only on treatment with braces, clear aligners (Invisalign), and retainers. An orthodontist has pursued 2-3 years of additional training beyond dental school in order to specialize in the growth and development of facial structures.
What problems does an orthodontist fix?
Common orthodontic problems include crowding or spacing of teeth, uneven smile, impacted or unerupted teeth, and improper jaw alignment.
Will getting braces or orthodontic treatment hurt?
Generally, there is a short period of discomfort for a couple of days in your teeth, gums, and cheeks as you mouth gets adjusted to the braces. Dr. Zach will discuss with you or your parents the best way to manage this discomfort.

What is the best age to see Dr. Zach for a consultation?


In general, anyone wishing to improve his or her smile can schedule an exam at any age, from children to adults! Most full orthodontic treatments will begin around age 11-13 to coincide with the start of adolescence and the loss of remaining baby teeth. However, some problems can still develop before this age and require a form of early treatment as early as age 7.
How do I take care of my braces?
Excellent brushing and flossing habits are necessary to take care of your braces and teeth. Also, you will need to follow our instructions on how to avoid any broken appliances and problems.

How long will I have wear braces or Invisalign clear aligners?


Treatment times will vary on an individual basis depending on your goals and how challenging the tooth movements will be. Treatment times can range from 6 months to 30 months, and the most common treatments average about 18-20 months for a beautiful smile.
Do I still see my regular dentist every 6 months?
Yes! It is absolutely necessary to see your general dentist every 6 months for regular check-ups and cleanings. The health of your teeth is our number one priority, and your dentist is essential in the maintenance of your teeth before, during, and after treatment.
Will I have problems playing sports or musical instruments?
Although there is an initial adjustment period, you should not have problems participating in your normal activities with braces. We recommend wearing a mouth guard during contact sports.
Will I have to wear a retainer at the end of treatment?
Yes, at the conclusion of orthodontic treatment, a retainer is required to maintain the result and keep your smile beautiful.
Still have more questions? Feel free to contact us here or call/text us anytime : ) We are happy to help!