Teeth genetics are weird. There is so much variation in size, shape, and color teeth. There is also a lot of variation when it comes to timing of when baby teeth are lost. We are all so different from one another, with a few exceptions: our teeth are very much like those of our parents and siblings.
Teeth abnormalities are pretty common in the general public, and many people are affected by them. For example, approximately 30% of people are missing at least one tooth. This is most commonly a wisdom tooth. Also, approximately 2-3% of the population has an impacted canine, where the canine is stuck in the bone and does not want to come in. It is more common on the left side than the right side (how weird!) and it is more common in girls than boys (sorry ladies!).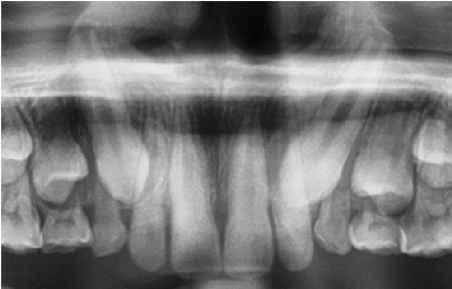 As a parent, it is important to keep this in mind. Are you missing an adult tooth, or was your brother or sister missing a tooth? Do you still have a baby tooth in your mouth? Do you remember having braces to fix an impacted canine? Your kids will be more at risk for similar problems. Impacted canine teeth can damage other adult teeth, and missing teeth can be a dental problem in the future if not addressed early.
So what do you do? It's simple - get a screening early. I recommend having an orthodontic  screening at age 8 to evaluate for these conditions early. We take a panoramic x-ray that looks at all of the developing teeth so that we can see if any of these problems may occur. Most orthodontists do not charge for this screening, and it basically informational to help you understand your child's current or future needs.
Is it OK to have a screening even if you didn't have these problems? Yes - definitely! You may not know that grandma or great-uncle was missing 4 adult teeth. Additionally, we are screening for more than just missing teeth. We look for crowding issues, spacing issues, overbites, underbites, cross bites, and much more.
At the end of the day, please do not lose sleep over any of these issues. Genetics is out of your control, but we are here to help however we can. We can correct impacted teeth, missing teeth, and bite issues in many different ways with braces and Invisalign®. Feel free to reach out with any question : )
Take care and love your smile!
Dr. Zach