February 8th, 2021
Perhaps you have memories of sitting in a dental chair anxiously waiting for a dental impression (dental mold).  Memories of a cold, gooey mixture inching closer down your throat. Memories of drool hanging off the edge of your lip while the mold is held in place. The very thought of it for some people will make them gag!
We have good news for you: meet the intraoral scanner. While this technology has been out for some time, it is still not universally used. Here are some information about what it is and how it will make your trip to the orthodontist much better.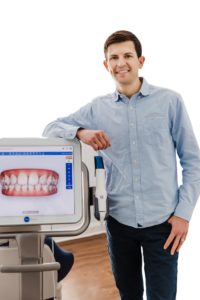 What is 3D digital intraoral scanner?

It is a high-tech video camera that captures images of your teeth to create a 3D digital model of your teeth.

Does it use any radiation like an x-ray?

No radiation is used - it is simply a video camera that stitches many images together to create the 3D image of your teeth.

How long does it take to have your teeth scanned?

It depends on the experience of the user, but in most cases it will take less than 5 minutes to get a full scan of all of your upper and lower teeth.

What do you do with the 3D image?

We can use the image in lots of ways. We can use it to diagnose your bite or create 3D printed physical models of your teeth. With the printed models, we can make all sorts of orthodontic appliances and retainers without ever having to take a dental mold.

Do you still have to take a mold to get retainers?

No way : ) Our patients do not have to have dental impressions taken at any time.

Can this be used for Invisalign clear aligner treatment?

Yes! Additionally the aligners will be better fitting as a 3D intraoral scanner is more accurate than traditional dental molds.
We absolutely love the 3D intraoral scanners in our office. Treatment is dramatically more comfortable for our patients leading to a better experience. Additionally, we are getting more accurate orthodontic appliances which leads to better treatment and reduced time spent at the orthodontist. Finally, it is great form an environmental standpoint as there are fewer steps, fewer appointments, and less waste by using the scanner.
If you're interested in pursuing braces treatment or you are considering Invisalign clear aligner treatment, make sure you visit an orthodontist with a 3D intraoral scanner. You will thank me later ; )