We love supporting our community in any and every way possible. We are highlighting another person who deserves recognition in our community for his great service - Danny Glover of Skuddlebutts. He is a DG native who is just as passionate about pizza as he is the community - take a minute to check him out!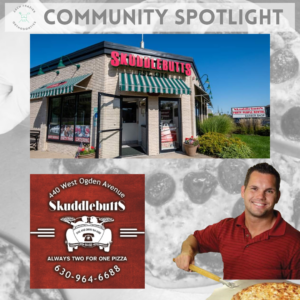 MEET DANNY GLOVER - OWNER OF SKUDDLEBUTTS IN DOWNERS GROVE
Everyone around town has seen the generosity of Danny and his crew over the past few months in their support for our healthcare workers, and he has supported the community and schools for many years. He's truly a hometown hero and continues to motivate every business around to support the community!
Originally opened in 1939, Skuddlebutts became Danny's back in 2009. Born and raised in DG, he started working there at age 15 as a bus boy, and gradually worked his way to gain the opportunity to buy the restaurant. 
While known for their pizza, Skuddlebutts are masters of catering. With summer coming up, they provide an amazing on-site backyard BBQ that you must check out for graduation parties and celebrations!
Danny is truly motivated to do his best for both business and community. He loves basketball, board games, biking and travel. His mentor Bill Gall (previous owner of Skuddlebutts) really instilled a great work ethic, and this is clearly reflected in Danny's effort.
Make sure to check out Skuddlebutts here in Downers Grove and support the businesses that shape this amazing village!
Skuddlebutts
440 Ogden Avenue
Downers Grove, IL 60515
Web: https://skuddlebutts.com
Facebook: https://www.facebook.com/SkuddlebuttsPizzaAndCateringDownersGrove/
Instagram: https://www.instagram.com/skuddlebutts/