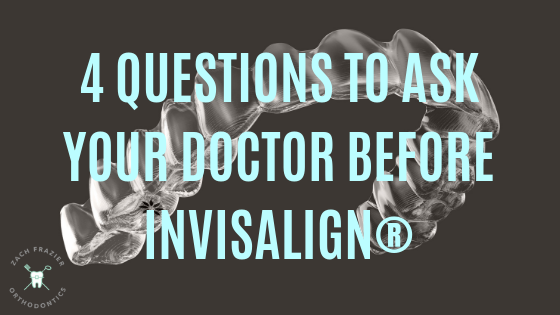 Many adults are seeing the awesome benefits from straight teeth. From improved esthetics and self-confidence to improved oral hygiene and maintenance, it is clear that well aligned teeth are an important piece of keeping you feeling healthy and young.
With Invisalign® treatment as a popular choice for adult orthodontic treatment, it is becoming more popular than ever to have straight teeth as an adult. However, there is a common misconception that Invisalign® is doing the work to move the teeth. The truth is this – the doctors getting the best results in the shortest amount of time are the experienced orthodontists with skills in all aspects of straightening teeth and correcting bites.
To get a feel for your doctor's skill and comfort using Invisalign® to straighten your teeth, here are four questions to ask before choosing the best person to help you with your smile.
Are you a specialist at moving teeth?

Orthodontists are the only dental specialists with professionally, certified training to move teeth. This high-level training extends 2+ years after dental school. If you want to get a better smile and straighter teeth with Invisalign®, why wouldn't you go to an expert in the field?

How many cases have you treated like mine?

As an orthodontist, I have changed thousands (yes, thousands!) of smiles over my career. Whether it is braces or Invisalign®, there is probably not much I haven't seen already. Once again, you should look for someone with vast experience in straightening teeth.

What if Invisalign® doesn't work on my teeth?

To be honest, I am not perfect, and no dentist can be perfect. However, if something isn't going as planned or a tooth is not moving as expected, I have additional tools and skills to get you to the finish line. If all your doctor knows is Invisalign® and that doesn't work, what will you do when the result is not what you expected?

If you wanted to straighten your teeth or your child's teeth, who would you go to?

Besides treating many dentists and their family members, we often treat their team members and their team members' children! When it comes to getting the best result, ask your family dentist who they prefer for their orthodontic care : )
Keep these in mind as you start your journey to a new smile. Our office offers complimentary consultations to anyone considering orthodontic treatment. So if you want to see what I can do for your smile using Invisalign®, give us a call or send us a message via text or email!
- Dr. Zach