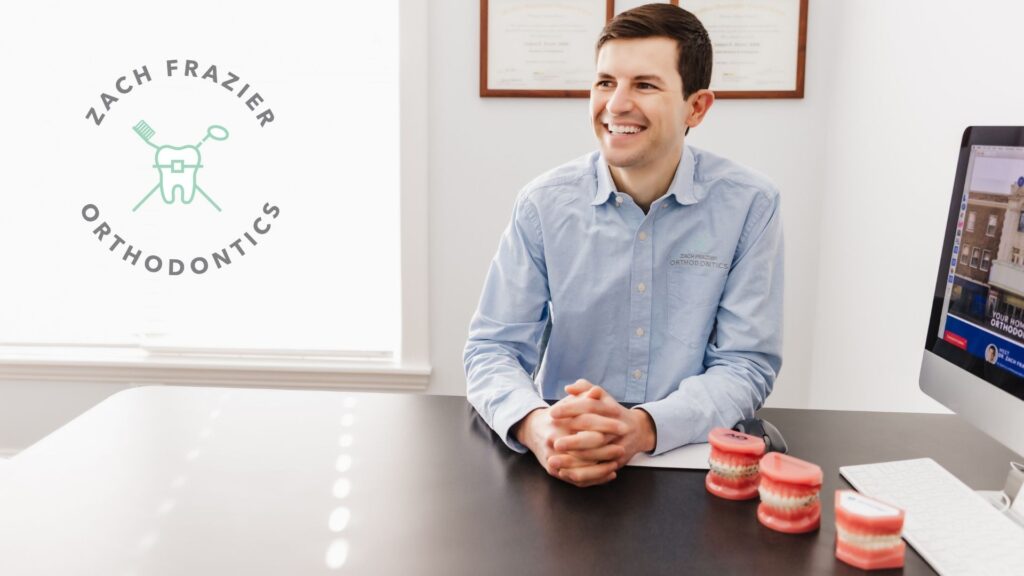 A common question we hear from parents is "what's right for my teenager – braces or Invisalign?"  They've heard conflicting opinions from their friends or their dentist, but at the end of the day, they want to know what will work best for their child. At Zach Frazier Orthodontics, we believe in educating you on the pros and cons of each option so that you can choose what goes into your child's mouth. 
You know your child better than anyone else, and you should be involved in deciding what treatment is best for them. At every orthodontic consult (that's a first appointment, and free, by the way) I talk with patients about the advantages and disadvantages of both Invisalign and traditional orthodontic braces based on what I've seen treating thousands of teenagers over the past 10 years.
In this post, I will discuss my perspective as well as the merits, drawbacks, and similarities of each treatment.
Traditional Braces
The technology with braces has come a long way in the past 30 years, and our ability to shorten the time wearing braces continues to improve. Traditional braces use brackets cemented to the face of the tooth, and they can be made out of metal or clear ceramic material.  The braces hold a wire that runs lengthwise to apply pressure, moving teeth into place with ties that secure wires to the brackets. A patient sees slight changes over time as the orthodontist makes adjustments every six to eight weeks. 
Invisalign/Invisalign Teen
Invisalign and Invisalign Teen are clear BPA-free plastic appliances that offer patients an alternative to traditional metal and ceramic braces. It is a relatively newer tool for orthodontists as the technology is about 20 years old.  We take a digital scan of the teeth, creating a 3D image that's used to produce a series of clear trays (aligners) worn by the patient for 22 hours per day (they should only be taken out to eat and brush/floss). Each aligner is configured to adjust the teeth according to a predetermined treatment plan mapped out by me, Dr. Zach Frazier. A patient sees slight changes over time as the aligners are changed weekly, and the progress is checked regularly every 8 to 12 weeks. 
Benefits
Traditional Braces
Tried and true technology that continues to improve over time

Participation is virtually guaranteed as there are no decisions about whether to wear or not to wear them 

Customizable colors! (if you want them)

May have improved outcome for complex or challenging cases

Most patients are candidates
Invisalign/Invisalign Teen
Clear for aesthetic appeal

Office visits can often be spread out over fewer appointments every eight to twelve weeks

Easier brushing and flossing

Most patients are candidates
Drawbacks
Traditional Braces
Metal (or even ceramic) brackets and wires are visible

Occasional discomfort from poking wires or brackets that rub the inner portion of the lips

Broken brackets that cause "emergency appointments"

Brushing and flossing more challenging
Invisalign/Invisalign Teen
Participation can sometimes be a challenge – if aligners are not worn, you will see no change

More limitations for complex treatments and longer treatment plans

Aligners must be removed for snacking and some teenagers are "always snacking" which reduces their aligner wear time

Must be removed for eating which can lead to lost aligners
Similarities
Both will cause some tooth soreness initially as treatment starts

Both move teeth at the same rate so treatment times are similar

Both can be used with rubber bands if bite correction is needed

Both require you to use a retainer when treatment is completed
What's right for you?
It may be hard to decide on what option to choose - that's why we offer complimentary consultations!  
We sincerely will never pressure you one way or the other, and we are truly here to help find what option is best for you and your child : )  
I look forward to meeting you!
- Dr. Zach
CLICK BELOW OR CALL US TODAY FOR A COMPLIMENTARY CONSULTATION.