December 1st, 2019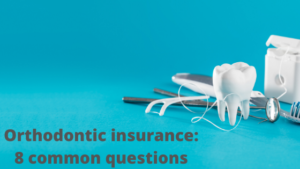 Orthodontic insurance coverage can be very confusing to say the least. There are many nuances to the coverage, and it may vary year to year depending on your employer and the insurance company. Here are a few of the most common questions we are asked about insurance coverage for braces and Invisalign.
How much of treatment is covered?

It depends on the policy that has been chosen by your or your employer. It may vary greatly, with many policies covering approximately $1000 - $2500 per person on the policy.

How does insurance pay out the benefit?

Insurance usually pays the lifetime benefit over the course of treatment in monthly installments. It is not typical for them to pay it all out at once at the beginning of treatment, so to receive the full benefit, the plan must be active for the entire course of treatment.

Is adult orthodontic treatment covered by insurance?

In many instances, yes. This certainly depends on the insurance plan and the options chosen by your employer.

Is Invisalign treatment covered by insurance?

Yes, it is considered orthodontic treatment and can be applied to your lifetime orthodontic benefit.

Should I be concerned my insurance will not pay their amount?

No, the vast majority of claims are paid as expected. However, there are no guarantees. If there is a problem, the office can try to resolve it, or you may have to call the insurance company to resolve any payment discrepancies.

What if my insurance does not pay as much as expected?

In the case of underpayment, the remaining balance is owed by the patient for the services.

What if I get new insurance during my treatment?

Some insurances have a "work in progress" policies that allow the new insurance to pick up the coverage. In other cases, the new insurance may consider it an existing condition and may opt to not cover. Calling your insurance company before switching is always a good idea.

How will I know insurance is making payments?

Explanation of Benefits (EOBs) are sent to both the orthodontist and the patient so that you can review the payments being made on your behalf.
At Zach Frazier Orthodontics, we extend the extra courtesy to deal directly with your dental insurance provider. We verify and submit your insurance for you so that you do not have to deal with the hassle of filing insurance claims. If we expect insurance to cover a portion of your treatment, we will collect directly from them to reduce your monthly payment to make treatment more affordable.
Have more questions about dental insurance? Feel free to reach out - we are happy to help : ) We are experienced in helping many patients with braces and Invisalign in Downers Grove!