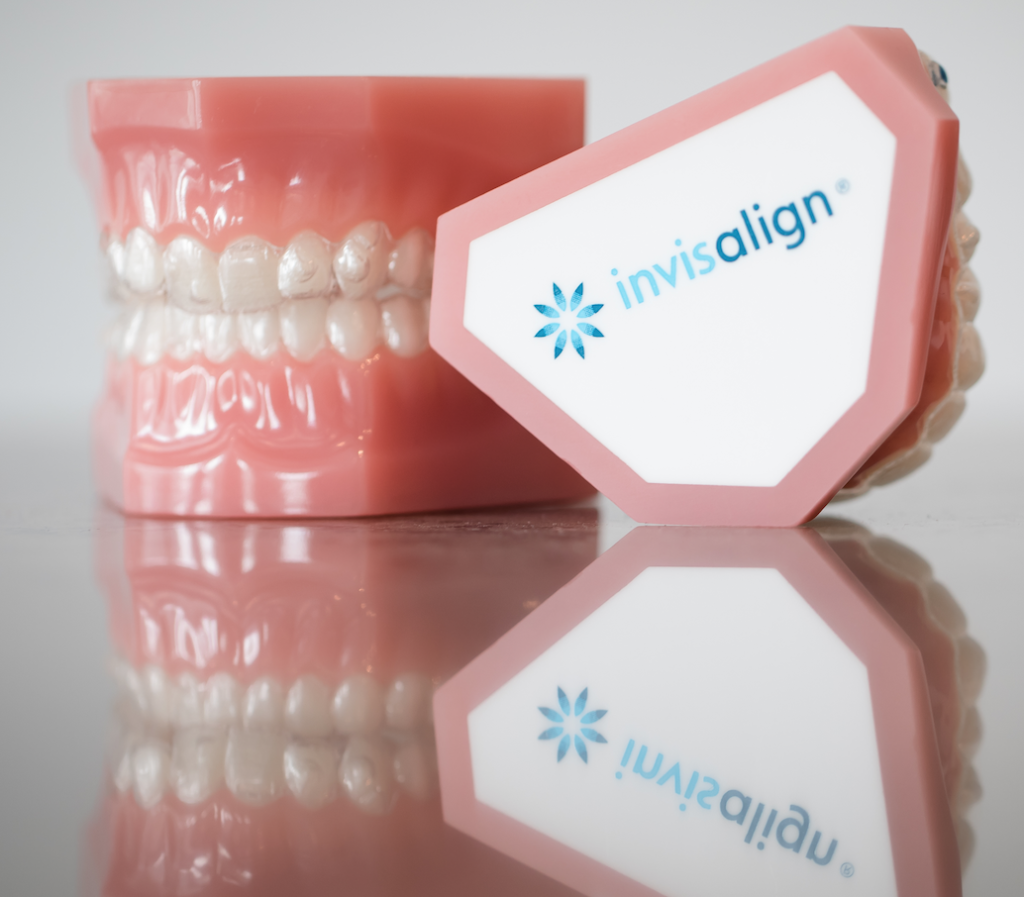 Clear aligner treatment, like Invisalign, is another tool that we use to straighten your teeth and give you an awesome smile. As someone who has gone through Invisalign treatment myself, I can tell you that is relatively easy and well worth the investment. While many people are familiar with braces, we get a lot of questions regarding Invisalign. Here are just a few of our most popular questions:
How does Invisalign work?
Invisalign is a series of clear, plastic retainers that put pressure on the teeth in order to move them. Each one has a small movement built into the shape of the aligner, and progressively over time, the slight changes in shape lead to dramatic changes in your smile and bite.
What are the "bumps" or attachments on the teeth?
For most cases, small attachments or "bumps" are glued to the teeth with transparent dental filling material. This material is the same thing dentists use to fix cavities on your teeth, and they are removed at the end. The small attachments allow for more complex movements of the teeth to ensure we can deliver the result you deserve.
Are my teeth going to be sore?
Any time we apply pressure to a tooth, it will be sore. Teeth don't know whether they are being pushed by braces, Invisalign, or a retainer. The adjustment period is usually about one week at the start of treatment, and it can be easily handled with a softer diet and over-the-counter pain medication.
How often do I wear them?
In order to be effective in changing your smile, they must be worn at least 22 hours per day. There really is no exception to this rule as teeth need constant pressure to change their position. They are removed for eating and brushing, and each aligner is replaced by a new on a weekly basis in most cases.
How long does the total treatment take?
Invisalign treatment time varies based on the complexity of your treatment. Some cases require more movement and bite correction. A typical Invisalign treatment may range from 4 months for small movements to 24 months for complex movements. However, the average time in treatment is usually around 12 to 15 months.
Does dental insurance cover Invisalign treatment?
Yes - if your dental insurance has orthodontic coverage, the benefit may be used for braces or Invisalign. This is great news as you can choose the treatment option that best suits you and your lifestyle. We offer flexible payment plans which makes treatment much more affordable than people expect.
How do I know if Invisalign is right for me?
Invisalign treatment does require excellent participation during treatment, but the benefits are huge! If you would like to change your smile without compromising esthetics or your diet, Invisalign may be a great choice for you. The best way to find out if you are a candidate is to schedule a complimentary consultation with our office.
Want more information about your Invisalign experience with our office? Give us a call or send an email - we are always happy to help : )
- Dr. Zach