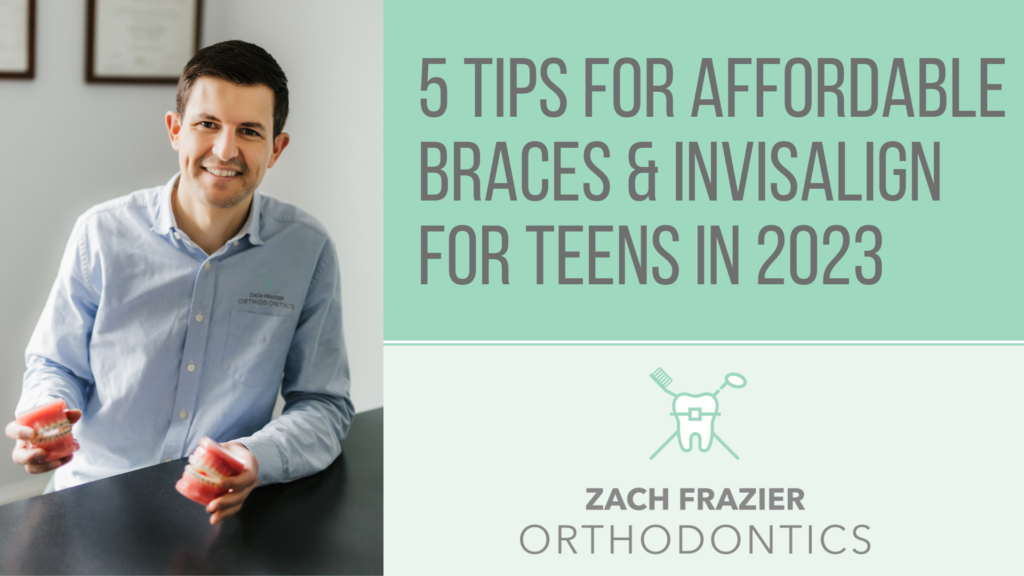 Hey parents - we get it. Finding room in the family budget for straight teeth is a challenge amongst everything else going on. Sports uniforms, violin lessons, iPhones, vacations - kids sure are expensive. And I totally understand - I have kids of my own, and there always seems to be something coming up.
As we all plan for 2023, I want to help by giving you some honest and actionable advice to help you save on your orthodontic treatment. It may take a little research, but it will be well worth it in the end!
1. EMPLOYER INSURANCE PLANS COVER TWEENS AND TEENS:
If you are looking at plans for 2023 and your employer offers an option with an orthodontic benefit, the best time to plan is now. Schedule a consultation with an orthodontist to see if your child will need braces in 2023. If they do, then you can do the math to see if the extra premium is worth it. If they don't, see if you can get a timeline of when he or she will be ready. This way you only pay the additional premium if you're going to use it. At ZFO we offer complimentary consultations, so there's no risk of losing cash for the sake of planning ahead - plus, no referrals necessary. : )
2. GO TO AN OFFICE THAT WORKS DIRECTLY WITH YOUR INSURANCE TO SAVE YOU TIME & MONEY:

Many people do not realize it, but not all offices give treat insurance the same. While some offices may work directly with your insurance company to secure your benefit, others will leave you with the responsibility of dealing with the insurance company to collect your benefit. If you go to an office who is not handling your insurance, you will pay more up front for your treatment and be left with the responsibility of doing your own insurance homework. Our office prides ourselves on going above and beyond for your family: we will file the insurance claim, follow up with the insurance, and do all the legwork to ensure your claim is paid to off-set your out-of-pocket cost. Additionally, at ZFO we are in-network with many PPO plans, so you can ensure you are getting the maximum benefit possible for your orthodontic treatment. Call us to see if your plan is one of them. 
3. FLEXIBLE SPENDING ACCOUNTS AND HEALTH SAVINGS ACCOUNTS:

FSAs are a great way to take advantage of your employer benefits to help reduce some out-of-pocket costs on teen orthodontic treatment. Visit your orthodontist before you set your FSA limits for 2023 to find out how you can plan your payments. Our financial coordinators are a great resource! HSAs are also a great way to use pre-tax dollars to your benefit to pay for teen orthodontic treatment.
4. PAYMENT PLANS:
Most orthodontists will offer in-house financing with 0% interest on the monthly payments. This can be a huge advantage for a family trying to budget out the cost of braces or Invisalign® for multiple kids, so be sure to talk with the office to see how the payments can be arranged. You may be surprised to find out that offices like ours are willing to finance beyond the treatment time or accept a small down payment as low as a couple hundred dollars. All you have to do is ask : )
5. SCHEDULE A COMPLIMENTARY TEEN ORTHODONTIC CONSULTATION NOW:
Timing is everything and you won't know if your tween or teen is ready for orthodontic treatment unless you get them checked out by a specialized practitioner. Orthodontists receive 2 additional years of specialized schooling above and beyond their dental certification, making them the right person to determine timing for orthodontic care. While some kids are good candidates for early orthodontic treatment around age 8, many more begin treatment closer to age 11 or 12. If your child is approaching this age range, schedule a complimentary consultation with us and we can help you plan your timing! You may not need to look into any of the above until late 2023 as you plan for 2024 - but at least you'll know. 
At Zach Frazier Orthodontics, we take pride in our ability to make treatment affordable while maintaining the highest standards of care and customer service. How do we do it? Well, frankly, we are different than most offices in that we do the following:
100% transparency & no pressure – we are not here to sell you anything!

Time and cost efficiency – shorter treatment times equals less cost

Custom payment options

to optimize your FSAs and HSAs

Low down payments on treatment

Thorough plans and clear communication from start to finish
As a member of the COMMUNITY, I would not be able to do my job any other way. My patients are your friends, your family, and your neighbors; and we are proud of our reputation. Feel free to send us a text or email - we are here to help you : )
- Dr. Zach