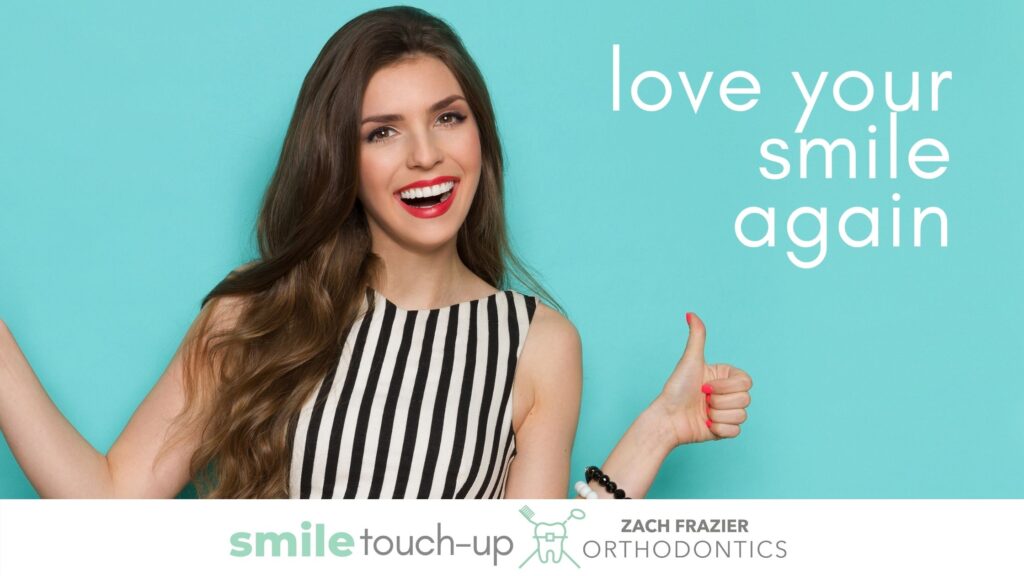 Many parents we speak to had braces in the past (but didn't wear a retainer) and lost the straight smile they once had. Many other adults have simply never been happy with their smile. Maybe you've never considered orthodontics as an adult because you can't imagine wearing braces to client meetings or maybe because it's a big time and financial commitment to undergo years of braces as an adult. 
Whichever boat you fall into, we have good news! Our team doesn't want any roadblocks in the way of you having a beautiful smile… or having it back again. 
That's why we're offering Smile Touch-Up to the adults of our community where Dr. Zach Frazier and our team will address only the elements of your smile that are most important to you. That means shorter treatment times and reduced fees.
People won't notice you're wearing them
We 3D print a series of custom clear aligners to straighten your teeth. And, unlike traditional braces that you might have had as a kid, our clear aligners are removable. You take them out briefly when you eat or brush your teeth. Most of the time your aligners will stay in so they can do the work of moving your teeth. The good thing is that they are virtually invisible so people won't even notice you're wearing them.    
While we do offer full orthodontic treatment for adults at our practice, we find that many don't want to make that commitment. Whether it's financial or time restraints, our Smile Touch-Up is a great option. 
Together we will figure out which elements of your smile are most important to you. We'll agree on a course of treatment to fix only those areas, and we'll set an estimated timeline. Because of the limited nature of the adjustments, we are able to improve your smile in a much shorter timeframe than for those looking for full orthodontic treatment. 
You're not alone
Adults are getting braces and Invisalign clear aligners more than ever before. The American Association of Orthodontists (AAO) says that adults are getting orthodontic treatment in record numbers, and not all of them for the first time either. Not only that, patients are reporting that after treatment they feel better about themselves and their social lives. Most would recommend seeking out treatment for other adults. Major benefits! 
See an Expert
There are many services out there claiming they can mail you aligners and fix your teeth. We strongly believe that even the smallest changes to your mouth should be done under the in-person care of a trained and certified orthodontist. Dr. Zach Frazier is a board-certified orthodontist with extensive training beyond that of a general dentist.  Our team limits treatment exclusively to braces and Invisalign which means you have your teeth in the hands of an expert.
Make sure you know who it is that is making changes in your mouth. What looks like a small fix could domino into major issues without a trained orthodontist looking at the full picture. 
No Obstacles
At Zach Frazier Orthodontics, we have treated thousands of teens and adults with clear aligners. We know what we're doing and we've treated cases that are both difficult (Full Treatment) and simpler (Smile Touch-Up). Our team strives for clinical excellence in a friendly and welcoming environment. We appreciate that you have a busy schedule and will make sure to have you in and out as quickly as possible - time is important to us! …. It's one of the reasons why we offer Smile Touch-Up.
Speaking of time, most of our Smile Touch-Up appointments are scheduled at 10-week intervals. And, if you're away for longer periods of time - we're talking to you, college students - we can even work with you to ensure your geography doesn't get in the way of treatment with us. 
See your smile before you start!
Want to see what your new smile will look like at your first appointment? At Zach Frazier Orthodontics, we use a high-tech iTero intraoral scanner to take a 3D model of your mouth. Then we use special software to move your teeth right in front of you on the screen!
Ready to Rejuvenate Your Smile? 
If you're interested in talking about whether you're a candidate for a Smile Touch-Up with clear aligners click the button below. We'd be happy to explore this option with you, free of charge.
CLICK BELOW OR CALL US TODAY FOR A COMPLIMENTARY CONSULTATION.