Wendy
Receptionist
I enjoy meeting patients at the very start of treatment and seeing how they grow and change with a new smile. I love how people become happier and more confident, and, of course, those finished smiles can't be beat!
My husband and I have lived here in Downers Grove for more than 25 years. It's been a great place to raise our two sons, and we loved attending all their baseball and football games. I enjoy gardening, swimming, decorating, and going to local restaurants with friends.
Katelyn
Orthodontic Assistant
I really enjoy talking with our patients and parents. Getting to know a person, and becoming their friend as they get a new smile, is a great experience. I'm lucky because I experience it every day!
When I'm not working, I really enjoy spending time with friends, my wonderful husband, and my two kids. I'm also a big Chicago Blackhawks fan: Go Hawks!
Jackie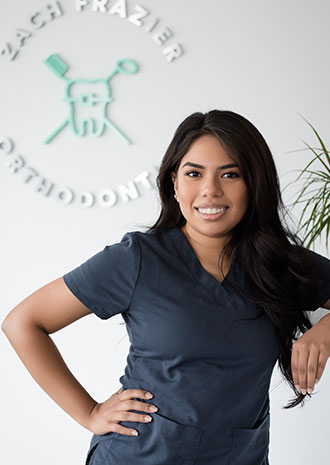 Orthodontic Assistant
It's incredible how changing a person's smile changes their life! I love watching patients become more confident and outgoing as they see their teeth move. By the end of treatment, they're a whole new person with a smile that doesn't stop!
Outside the office, my favorite times are at home, spent with my boyfriend and young daughter.